I've copied the body of the post below from my thread about cruise controls because I thought members might like to see (if they don't already know it) what a humble Peugeot Partner Van can be turned into.
This is my Auto-Sleepers converted campervan. Its called a Mezan:
The van body is replaced from behind the doors with a molded glass fibre body which is about 18" longer than the original:
The interior really is TARDIS like:
This is the view looking back from the front passenger seat: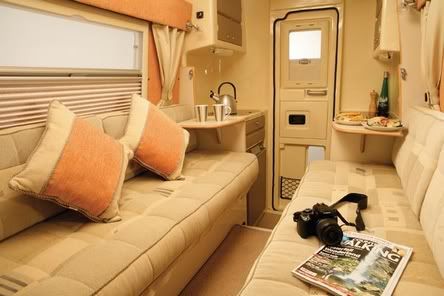 At the far end on the left is the 2 ring gas hob and grill with a fridge under (12v, 240v or gas) and cupboard above, on the right is the sink with pumped hot and cold water, cupboard and toilet below and wardrobe above. The 240v mains or gas powered water heater is under the nearside seat.
There is a 45 Ltr fresh water tank and the heater holds a further 15 Ltrs.
The two long seats can be used as 2 single or one double bed:
There is a fantastic amount of storage space under the seats, above the windows, in the cupboards and in the luton area over the front seats which also houses a folding table for use in or out side the van.
Outside there is a lockable store for 2 gas bottles and a locking 'wet' store for boots etc.
All of the windows are double glazed and have fly screens and blinds and there are 2 roof vents.
It obviously has good interior lighting, radio and TV, 13A mains and 12v sockets dotted around, powered digital aerial, mini sat dish and it even has a deisel fueled central heating system.