Discussion Starter
•
#1
•
This is to hopefully help anybody replace there front brake disc's and pads on there Pug 3008.
First off you need to jack the front of the vehicle and support on axle stands or what ever your preferred method and remove the front wheels.
You will need to remove the two torx screw with a t30 torz bit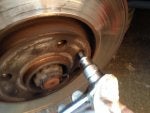 Using a screwdriver, insert between the caliper and the outside pad and lever away to reset the caliper piston back.
Next you will need to remove the two 13mm Bolts from the caliper assembly whilst holding secure the slider pin with a pair of pliers. move the caliper to the side and support its weight with a tie wrap from the suspension strut.
Following this you will need to remove the two 16mm torz bolts from the carrier assembly but use a torx socket as these are very tight.
Remove the old disc. Using a wire brush clean the wheel hub, caliper and carrier assembly of all debris prior to installation. Prep the wheel hub for the new disc with a little copper grease to prevent the disc never coming off again in the future. Clean the oil from the new disc with brake cleaner then install the disc onto the wheel hub. Re-fit the two T30 torx screws using a touch of copper grease hand tight only.
Next prep the carrier assembly with a little copper grease on the contact points for the brake pads, re-fit to the hub assembly with the two 16 mm torx bolts and fully retighten.
Apply a little copper grease to the brake pads where they contact the caliper and piston and install. Re-fit the caliper to the carrier with the two 13 mm bolts, re-fit the wheels and lower the car. Last of all pump the brake pedal till hard before driving. Allow the brakes to bed in before heavy braking.:lol: