Discussion Starter
·
#1
·
Evening,
206, 1.4i petrol, year 2000.
Car not well running lumpy, no guts, struggling up hills, stalling etc. BiL kept thinking coil pack. Put 4 spare plugs into the coil pack and held against the rocker, spark from each when I turned it over.
PP/Diagbox didn't bring anything up that I could see initially.
Back on the web and grasping at straws I got a new crank case sensor. Unplugged the lead and pushed to one side. Try as I might I couldn't get the T30 headed bolt to budge. Awkward place and I think I've rounded the Torx splines off. Got the hump and went to put the plug back in and be done with it. The plug has a red and green wire and the red had broken off right where it enters the plug. It's similar construction to this one below. Wires pass through the hinge down flap, through the square grommet and get crimped on.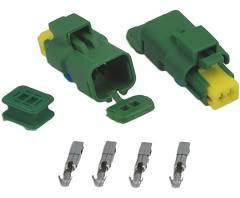 Managed to get the plug apart, to unmake the crimps and solder on new wires. All heatshrunk over and looking pretty factory.
Ran the car. It's much better but I'd say missing on one cylinder.
Ran PP again:
Can this really be the third coil pack that's gone down?
Sagem original coil pack, replaced with a Cambiare
Now a Bosch coil pack with Bosch plugs.
Cheers