Where am I supposed to post the required pics to list this by the rules ?
This might be very useful to someone
Panasonic CF- D1 MK2 With Citroen/Peugeot Diagnostic software ( if required )
Diagnostic touchscreen pc/tablet.
Selling due to buying newer model
Genuine Panasonic charger
New unopened screen protector
FX-Hybrid-Glass £15rrp
Stand & carry handle ( removable )
Back up 640gb HDD included
Only 980 hours of use ! Can be seen in photo of bios screen. ( Other sellers won't normally show this as the hours are in thousands or tens of thousand hours !! )
240gb SSD
8gb ram
Windows 10
The following operating systems are up & running in a virtual machine on this as I used to use it for diagnostic work with programs that would not work with windows 10.
Windows 7 x64 ,
Windows 7 x32,
Windows XP x64
Windows XP x32
All shown in photos
Also included is a bundle of
Peugeot Citroen Diagnostic software
1,2,3,4 & 5. ALL TESTED WORKING can be shown.
1 Servicebox ( No VCI required )
shows a breakdown of the car with part numbers ,repair procedures & labour times,
wiring diagrams - some are interactive so you can trace wiring much better than a manual !
2 Peugeot Planet ( earlier cars )
Diagbox ( dealer level diagnostics )
3 7.58
4 7.83
5 Diagbox 9.68 multi car
Please note a VCI ( about £60 ) is not included for diagnostics software-2,3,4.5
I can delete any of the programmes if you don't require them & would rather use it for something else .
Mint condition
£250 ovno
Collection only
More pics on the listing or just ask
Also on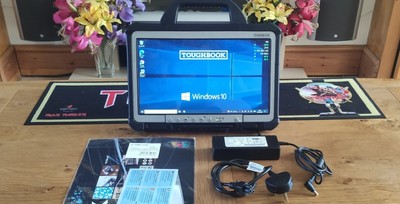 Find many great new & used options and get the best deals for Panasonic CF-D1 Mk2 -only 980 hours use With Citroen/Peugeot Diagnostic software at the best online prices at eBay! Free delivery for many products.