Discussion Starter
•
#1
•
Righto I have a 2.0 90HP 406 HDi Estate 2000 is the year.
Occassionally in 5th gear the power will drop off not for the engine to stall, but it drops off, lift off the accelerator and immediately press down all is well, then sometimes the power will drop off and again press on the accelerator away we go. Its annoying more than anything.
I thought perhaps the EGR was stuck? So ordered one, but before fitting i connected up to PP and have the errors shown in the pic.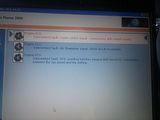 I guess the MAF needs replacing? what about the clutch switch and that FRIC thing?