Discussion Starter
•
#1
•
I have a Parrot hands-free kit which I'm trying to install in my Pug 308 (2008 reg). I have the wiring that is supplied with the Parrot, and an ISO converter kit which consists of a male and a female of: ISO, 8-way connector (centre lug) and 8-way connector (offset lug).
Having connected the various connectors, hopefully correctly, I can't get the radio or the Parrot to turn on - it appears to be a power problem. I've checked the inline various fuses and the power at each side of the fuse holders. Nothing.
With the extra wiring removed and the original ISO connector in the radio, everything works fine - so I haven't blown a fuse in the car.
I'm wondering whether the ISO converter kit is correct, because it only has pins for the large 16-way connector, and not the additional 8-way white connector at the bottom: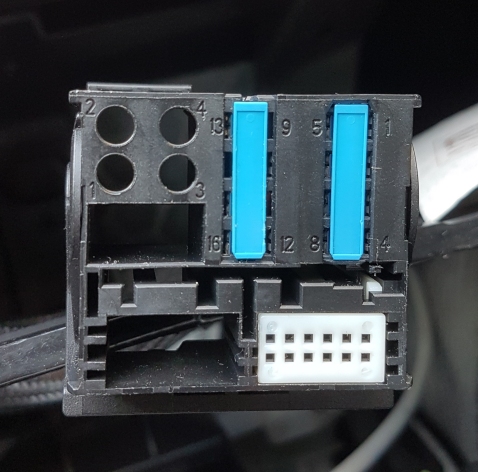 However I've tried removing the white connector from the car's ISO connector and putting it into the ISO connector of the converter kit that goes into the radio - no difference.
Is there an order code for the correct converter kit, so I can check whether the one I have has been wired differently.
I may, of course, have connected the kit incorrectly to the Parrot cabling - the diagram in the Parrot manual is rather vague - but I *think* there's only one way of connecting it.
Any suggestions? Anyone tried it and had success?
Is there a pinout of the ISO connector so I can check which wires *should* have 12V between them (ie which is +12V, which is ground?). What is the extra white connector used for?