Hi there, as i mentioned earlier, rear door connector is easy to remove, You have lot of space around when You have front door opened.
That is not the case on front door connector. If You look on last post of
@Kalderillo
, what i am talking about is clip named
b
. It is rather easy to press it from the side You are looking at it, but impossible to press it from the other side facing towards front of the car.
I hammered little tool from coat hanger i had laying around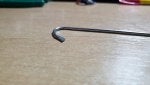 From the rest of the coat hanger, i will make door cover clip remover. Everything will be recycled