Discussion Starter
•
#1
•
I recently got a 307 D Turbo 110 2.0 HDi from my friend. Well, I do need some help from the lovely experts here in this forum.
When I got the 307, there were 4 warning lights on dash board. 1.Airbag 2. ESP 3.Engine coolant 4. Engine management light.
I am an IT guy with some mechanical engineering background. That is why I decided to buy it and try to fix this all by myself. (I still do not know if that was a right or wrong choice). I never driven any Peugeot car before. So everything is new to me.
1. I find the airbag fault is intermittently comes on. Sometime like 5 mins and it goes off. I believe it must be like a loose socket or some sensor fault. Well, I decided leave it to the very end.
2. ESP light, after researched for a while, I found out it is a common failure for all Peugeot car. Well, I believe as a Peugeot owner, sooner or later you will see it. But I do not know which wheel's ABS sensor got problem. I decided to buy a diagnostic tool to test it.
3. I full fill the coolant tank at night and checked it at the second morning. I found a water pool under the car. There must some leakage, well, I do have no idea how to check it. I brought a second hand Haynes Manuel. I still haven't fully go through it yet, If anybody knows how to check this problem. please give me some guide. Cheers.
4. There comes the big problem. At first I found the warning message on dashboard shows that "diesel addictive fluid level low" and after drive about 3-5 miles in city running. Another message show "antipollution fault". After research I know it is a typically DPF/FAP fault. Well, I decide remove it as most of the people did, also because the quote from a local garage about how much it will cost to fix it. I read almost every posts in this forum about DPF removal issue. (seriously, it took me about 2 weeks or so to do this.) I always want to find answers before asking help from others. I learnt that I need 3 software. PP2000 ECUSAFE and a ECU read/write one. So I brought a set of PP2000/Lexia, a copy of ECUsafe 2.0 and a copy of MPPS(also galletto 1260 but I found MPPs is better.)
Luckily I got a good guy (elmafudd) inthis forum whose car is exactly same model as mine. He gave me the dpf-removed ECU file. Another guy (HDI-tuning) helped me a lot on this DPF removal issue as well. Really appreciate their help.
What I have done till now are
1. I uploaded the new file to the engine ECU.
2.Went to a locak garage removed the DPF, cleaned the CAT(small end part) and removed the DPF. And put it back by the same guy in the garage he put all socket back and all sensors connection back. I also changed the fuel filter and air filter at the same time.
3. After that I deleted the DPF in PP2000's BSI section. I done it by here. That is the only place I modified with DPF. If I have to modify some other place, please tell me.
4. The starter motor is refurbished by myself.
Guess what, it drives very good...but only for 1-2 miles and suddenly the engine management light / ESP ABS light on at the same time. And the car become loss power and "choked", just felt like something is clogged. The engine is kind of limited at 1200rpm. I towed it back home with my mate and I scanned it with PP2000 and guess what......the errors are there.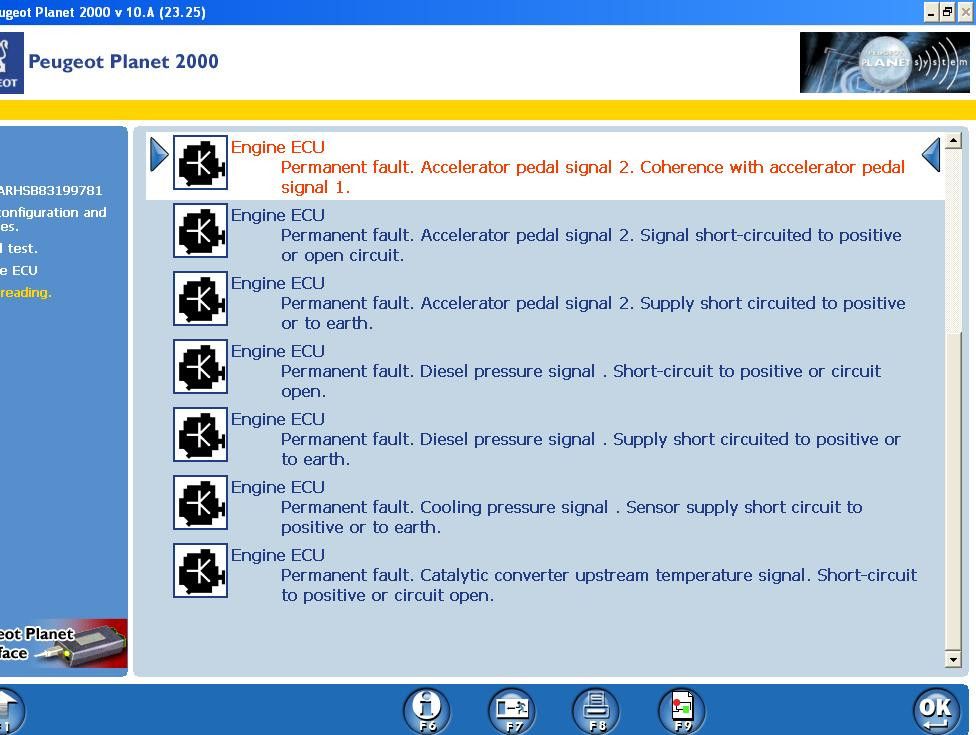 I was shocked when I saw these errors, this car is kind of "have a cancer".