Discussion Starter
•
#1
•
I noticed a loud knocking coming from the front drivers suspension whilst travelling to work the other day. Thinking it was the drop links, I purchased 2 but was surprised to find a big portion of broken spring resting in the strut.
So first of jack the vehicle and remove the wheel to gain access to the wheel well area. Next carefully remove the 2 plastic strips that run down the side of the windscreen, the clips are fairly robust
Next remove the wiper blades with a 16 or 17mm spanner (note you need to work with bonnet open and closed to remove). Remove the rubber bonnet strip on the front of the wiper drip tray, in the middle there is a star bolt to remove.
At the sides there are 2 rubber bungs that need removing, then with a little bit of jigging the drip tray can be removed fairly easily. Note there is a rubber spill tube at each end that tucks down into the wing but comes out no problem.
Next remove the wiper motor by removing the qty 2 10mm bolts and a wiring connector at the bottom. The motor itself has a spike at the rear where it supports its weight into the bulkhead.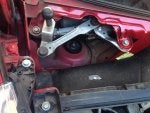 On the strut, remove the drop link with a star drive allen key and a 16/17mm spanner for the nut, you may need a strong bar to lever the weight off the roll bar to allow removal. Dont forget to remove the plastic cover over the nut prior to starting.
The next target is the 2 large bolts joining the hub to the strut, 19mm head end and an 18mm to hold the nut end, the nuts are held in a strip to stop them rotating but with the spanner on them as well you won't damage the strip.
From the top of the strut using a 21mm spanner and a 7mm allen key, remove the top nut, once removed lift the top cap and put aside. From the wheel well support the strut and wiggle free from the hub, then the strut will be free to remove.
Support the strut assembly and by using Spring compression tools, compress the spring. On the top of the strut is a washer loose, place to one side then remove the nut with a spanner and allen key. Remove the top bearing cup and slide off the spring.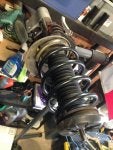 Refitting is exactly the reverse of removal. Take great care with compressing the spring and don't be tempted to use none standard tools as you will get hurt:thumb:
Dont forget to put the loose washer back on BEFORE placing the strut back into position.