Discussion Starter
•
#1
•
Hello folks, looking for a bit of help please. My fiance has had a 207 sw outdoor 1.6 Hsu for a while, it only has 33k and about 3 week's ago, it seemed to lose much of its power, as if it didn't have a turbo.
I took it to the garage who diagnosed that there was no vacuum pressure to operate the wastegate, although the wastegate itself functions correctly (verified myself by sucking on some vacuum hose) and sure enough there is no vacuum from the pipe when removed from the wastegate. Here's a quick picture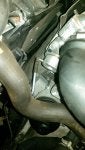 Now the garage, and latterly me, have scanned the ecu and it shows a pending fault with the wastegate solenoid valve, which presumably is stopping the vacuum being applied to the wastegate
So, I've been trying to locate this valve by following the vacuum hose but the whole thing disappears behind the engine, and I simply can't trace it.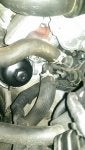 Can anybody advise me where this valve is located?
Thanks,
Rich.