As we all know, the 107, c1 and Aygo triplets can be prone to cabin water leaks. Older cars seem worse, and the Aygo in particular can be very bad. I believe that this is because virtually every exterior piece of glass, lights etc are all different on the Aygo.
Some terminology:
Weatherstrips
- often erroneously referred to as 'seals', they are the bits that go around opening apetures, such as tailgates, doors, etc. Many Japanese manufacturers refer to these as 'welts'. Pieces such as the trim at the bottom of a wind-down window are sometimes also referred to as weatherstrips.
Seals
- usually found around fixed items, such as windscreens etc.
Some manufacturers use other terms, and individual components can often have some bizarre names (such as 'poser mouldings' on Nissans), but I will be using the terms weatherstrip and seal to mean as described above.
Some common points of water ingress, and potential cures:
1) Tailgate weatherstrip - water ingress through here is not terribly common, but can happen. Ensure the 'strip is undamaged, and seated firmly and evenly all around. So some small extent you can remove it and refit it correctly, but it contains a metal strip around the inside to help it keep its shape so if it is that bad a new one is your best bet.
2) Rear lights - quite common on older C1's and 107's. Underneath the rear light clusters is a small foam rubber doughnut seat that protects the light wiring and seals the hole that goes through into the bodywork. Provided the seal is still in reasonable condition, try smearing a thin film of sealant over each surface. New seals are now available on their own - they were previously only part of the entire light cluster - but you could probably fashion your own quite cheaply from any medium density foam type material.
3) High level brake lamp. Very common, and so obvious it is often overlooked. The seal is dreadful, but removal of the light, a thin film of sealant, and refitting usually cures it. While the light is off it is best to ensure the hose to the washer nozzle is still in place, as if this pops off it can also leak into the rear cabin.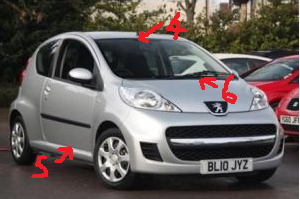 4) The radio antenna can leak, especially on older cars. Later models seem to have a slightly different design to the base and don't seem so bad. Pop the interior light off the reveal the 10mm bolt head. Undo, and the aerial pops off from above. A thin film of sealant and refit of the antenna should cure this.
5) Door weatherstrips. As per the tailgate weatherstrip.
However, while the 'tailgate' advice is relevant, there may be a further problem for Aygo owners. This can be a very bad leak point on the Toyota, and some dealers try desperately and without success to cure these leaks. Things are so bad that Toyota have introduced a warranty bodge, involving the fitment of a self adhesive secondary seal, which itself does not always do the job and often falls off once it gets wet...
In late 2010 Toyota redesigned the profile of the sill and the door weatherstrips and this was supposed the cure this once and for all. It hasn't made a jot of difference. So much to Toyota's superior fit and finish, eh?
Follow the 'tailgate' advice, but if you own an Aygo with a troublesome leak that won't be cured then you may have to accept there is possibly a fundamental design flaw somewhere and there may be little that can be done. Whoever finds the definitive cure for this on the Aygo will be a much loved and wealthy person!
6) Windscreen base - this mainly affects Aygos, and the only cure is to have the screen professionally refitted.
Other:
7) Stick your head in the boot and look down. On the inside of the rear panel is a black plastic vent, possibly partially hidden by the carpet trim. On later cars this 'vent' is just a big hole the size of a cig packet. Ingress through this vent has occured in a few case, especially C1's for some reason. I have heard of dealers simply filling the slats of the vent with sealant. A neater solution would be to remove the vent entirely and to rivet or seal a plastic or alloy plate over the apeture.
8) Underneth the car on the spare wheel well are some black plastic bungs. If these are loose, poorly fitted or missing, then water will get in. New bungs, and/or a dose of sealant will cure this.
9) Aygos with speakers in the front door can also leak from around the speakers. I have never personally come across this, but logically I would remove the door card and look for any damage to the interior membrane, or any areas where it is poorly fitted, and look to repair or reseal it.
A word on sealant:
Silicon sealant excretes water as it cures, which can then become trapped against the panel or item you are sealing. Therefore, if using silicon sealant
you must
make sure that the panel is properly protected with paint, and any chips, scratches or corrosion are properly repaired beforehand or the sealant will case merry hell. Wurth silicon sealant is expensive, but nice to apply and can be peeled back in the future if required.
The bitumen type sealants are technically more appropriate, but are a real messy pain to use. It's your choice.
Chopper